Our Children
Year 2
Meet the Year 2 Team:
 





 


John Page
Class Teacher and Phase Leader

Rebecca Smith
Class Teacher

Chloe Brading
Class Teacher









Gemma Hammond
Teaching Assistant

Sandra Newton-Oguntuga
Teaching Assistant

Amy Smith
Teaching Assistant
Our class names this year are...

Each of our classes has been named after a world famous STEM hero.  We have been learning about this hero and we are teaching the school about our hero through our class assemblies.  We had the portraits below commissioned (see here) and you will find these, along with our learning about our hero, in our Rainbow Room.  Please ask us about our hero and why they are so special.
Albert Einstein
 "Little Albert grew up in Germany, where it took him four years to formulate his first word. He was fascinated by how objects worked and, although he didn't love school, he loved physics and math books. His brilliant mind contemplated space and time, and he eventually came up with the theory of relativity.  He shared his knowledge with the rest of the world, becoming the most original mind of the twentieth century."
Little People, Big Dreams by Maria Isabel Sánchez Vegara
Marie Curie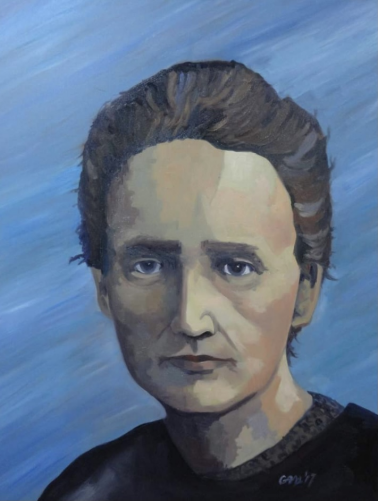 "When Marie was young, she was unable to go to college because she was a woman. But when she was older, her scientific work was respected around the world. Her discoveries of radium and polonium dramatically helped in the fight against cancer, and she went on to win the Nobel Prize for Physics!"
Little People, Big Dreams by Maria Isabel Sánchez Vegara