Our School
Strategic Plan and Ofsted Report
School Strategic Plan
Key priorities from our School Plan: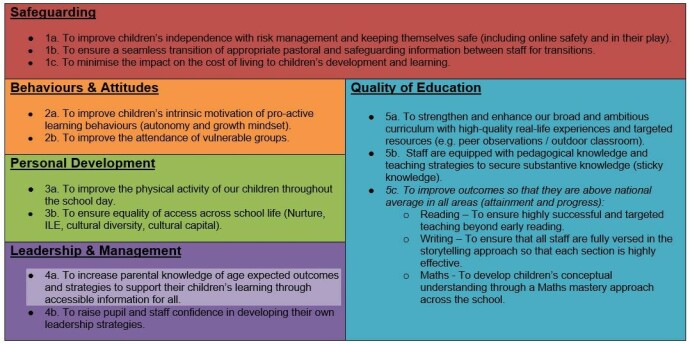 Ofsted Report
Ofsted Inspection: 16th March 2018
Our School was last inspected in March 2018.  The school was judged as being Good.
To view our latest Ofsted Inspection report, please click here.
Scroll through the quotes below to see what Ofsted had to say about our school
Your ambitious, skilful and nurturing leadership has reaped considerable rewards in this rapidly growing school.
Ofsted 2018
You and your leaders ensure that pupils' views, opinions and involvement in making decisions, directly and indirectly, are a core part of driving improvement.
Ofsted 2018
The welfare and well-being of all pupils has a high priority. Leaders take deliberate action to ensure that this encompasses each and every pupil, not just those whose circumstances may make them potentially more vulnerable.
Ofsted 2018
Your well-placed confidence and trust in the teams of passionate, enthusiastic and committed middle leaders and governors empower them to contribute well.
Ofsted 2018
Leaders use extensive and rigorous self-evaluation, including meticulous analysis of how well pupils do in English and mathematics, to craft precise, detailed and effective plans for improvement.
Ofsted 2018
From early years onwards, the pride, enthusiasm and confidence of pupils is harnessed and cultivated in meaningful learning opportunities.
Ofsted 2018
Teachers and teaching assistants draw skilfully on a wide range of questions to check and extend pupils' understanding and resolve any misconceptions.
Ofsted 2018
Parents have high levels of confidence in the work of the school to keep their children safe.
Ofsted 2018
Leaders use the information gathered from teachers' assessments extremely well to ensure that standards are rising securely.
Ofsted 2018
Pupils benefit from frequent opportunities to hone their literacy and numeracy skills in varied contexts. Speaking to randomly selected pupils of different ages, the depth and recall of this term's learning in foundation subjects is impressive.
Ofsted 2018