Our Children
Repton Manor Girls Football Team
Our Year 5 and Year 6 girls asked for an all-girls football team.  They wanted to improve their football skills and compete in matches.  How could we say no?!
Mrs Allen and Miss Ingram are busy training the girls and they are loving it!
October 2023
The girls had their first win, winning 2-1 to St Teresa's who have beaten our team in their last 2 encounters.
Go Girls!
Mrs Allen Me and Miss Ingram could not be prouder of the girls. They are super stars!
Thanks to all of their supporters too. 
September 2023 - our first match of the new school year.
We took the Repton Girl's Football Team to an away match after school. They played a 7 a-side, 40 minute match against St. Teresa's and all of the girls played fantastically! 

We are SO proud of every single one of the girls for their hard work, determination and the respect they showed to their opponents. For some of our girls, it was their first football match and for others, it was only their 2nd or 3rd match.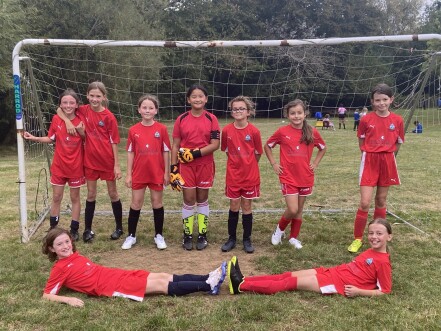 They all came away with a huge smile on their faces, and despite the 3-2 loss, Repton were a strong team - having several chances at goal.

We are looking forward to playing St. Teresa's again at Repton in the near future! 
Well done girls!
Repton Manor's First Girls Football Match - Monday 27th March 2023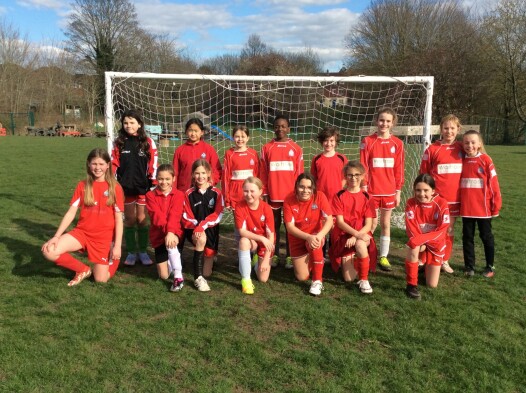 The girls played in their first ever all-girls football match at Repton Manor on Monday 27th March 2023. The girls started training sessions once a week in Term 3 and have shown amazing commitment and dedication. All 15 girls played on Monday, playing 8 a-side each half, with Georgia playing the whole game as the chosen captain due to her unremitting enthusiasm, something that was highlighted even more throughout the game. The girls played against Kennington Academy, a well-established opposition when it comes to Girls football - but that didn't deter our girls' effort and spirit! 

Maizey and Ronnie stepped up as goal keepers and both made some excellent, crowd uprising saves. Both girls showed brilliant resilience and the smiles on their faces when they saved a shot was lovely to see. Both girls should be very proud of themselves. Repton Manor were unfortunately defeated in this match, but again the girls' tenacity and strength shone through, resulting in them scoring in the second half - a second shot on goal from Amelia White that was deflected and then finished by Amirah. Some excellent runs were seen by Vegas, excellent defence by Gracie, Helyn and Elisa and amazing mid-field play by Megan, Millie-Rose, Pietra, Sarah, Ava and Eliza. 

Thank you to everyone who came out to support the girls - I know it meant the world to them!

We have some more matches and tournaments lined up so watch this space.....

Well done girls, Miss Allen and Miss Ingram are incredibly proud of you all.