Our Children
Courtney Tulloch Visit
On Wednesday 7th December 2022, we hosted a visit from a Team GB athlete - Courtney Tulloch.
We believe that physical health is key to supporting overall health and wellbeing, so this event's aim was to inspire children at Repton Manor Primary School to become more physically active and fit. Courtney led an inspirational assembly where he shared his successes and challenges, and even did a few demonstrations for us! He then led an exciting fitness circuit which the children participated in very enthusiastically in order to raise sponsorship.
We would like to thank Sports For Champions UK (a community interest company that looks to support athletes that require funding to help them to achieve their goals) for organising this event and helping us to raise money for Courtney and for the school.
Who is Courtney Tulloch?
Courtney Tulloch is an English elite international artistic gymnast, representing Great Britain and England. A specialist in rings and vault, he is the double Commonwealth Games champion on rings in 2018 and 2022, and a silver medalist on vault. Tulloch was also part of the gold medal-winning England team at the Commonwealth Games of 2018 and 2022.
Representing Great Britain, he was part of the gold medal-winning team at the 2022 European Championships, and a three-time European medal winner on rings. In November 2022 he became the first British gymnast ever to win a global medal on rings, a bronze, at the 2022 World Championships, having helped Great Britain to bronze, and Olympic qualification, in the team event days earlier.
We captured this short demonstration of Courtney to share with you all...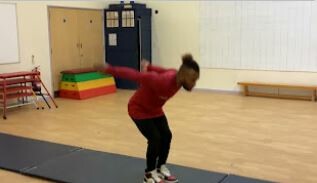 We raised a grand total of...
£ 2,637.02 for our school.
Thank you to all of our children for collecting such a great amount of sponsors and thank you to everyone who sponsored our children and supported them.